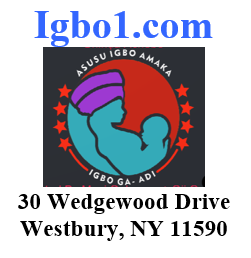 E-mail: This email address is being protected from spambots. You need JavaScript enabled to view it.                                                                         Phone: 516 289-8977
                                                                                              February 19, 2022
 Please Enjoy Our Language Anthems:
Dear brothers and sisters:
I am writing on behalf of IGBO GA-ADỊ /Mother Tongue Academy(igbo1.com). Our Organization is geared to the promotion and preservation of Igbo Language and Culture.
At Igbo IGBO GA-ADỊ (Mother Tongue Academy), we are continuously working on major projects to make sure Igbo language and culture are taught to many Igbo people particularly Igbo spouses of foreign nationalities, Igbo Children, grandchildren, great grandchildren and Igbo youths. Our main goal is to make sure Igbo language and Culture do not go into extinction according to the predictions of the United Nations and other world research centers on Languages and Cultures of the World.
In order to make a difference, we rely on generous and well-meaning individuals like you in our community and elsewhere. We will be most grateful if you will consider providing us a free will donation  to enable us provide "Free Online lessons" to needy students. 
Your critical support and generosity will thereby help in  shattering the long JINX of neglecting  rich Igbo  language and culture as well letting Igbo language go into extinction. We will surely keep you updated regarding our progress should you wish. 
Please you can contact us at 516 289-8977 for any questions or concerns you may have. Alternatively  you can make your donation using one of the following methods below: 
IN USA: 
Zelle >
Account Name: Mazi Ogbonna 
Email address or mobile number to use:
This email address is being protected from spambots. You need JavaScript enabled to view it. or  516 289-8977
                     OR
Account Holder Name: Mazi Ogbonna 
Bank Name: Bank of America 
Account Number : 483031803547
IN NIGERIA:
Account Holder Name: MaChidi 
Bank Name: GTBank 
Account Number : 1017809774
Please kindly click the "Donation banner: below to complete your donation desire with ease:
Thank you so much for your kind consideration and we hope to hear from you soon. God Almighty will replenish you many folds.
We wish you a very pleasant Merry Christmas  and a prosperous 2022.
Sincerely
Mazi Ogbonna